EMDR Solutions I and II COMPLETE SET (Hardcover)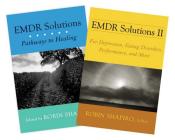 $77.70

Usually Ships in 1-4 Days
Description
---
Robin Shapiro's successful EMDR Solutions and EMDR Solutions II, now available in a two-book set.
In EMDR Solutions you will find fifteen exemplary EMDR solutions, each of which develops the Standard Protocol in creative and highly effective ways. These solutions move EMDR forward and expand the application of this powerful therapeutic approach. In this source book of therapeutic strategy and clinical insight, each chapter presents step-by-step instructions for implementing a particular EMDR solution with clients. Each intervention is enriched with relevant case histories that bring to life new targets for and variations on the standard EMDR protocol. Concrete and specific, the clinical work illustrated here will add to you fund of knowledge and broaden your practice.
Whether you read EMDR Solutions cover-to-cover or peruse one chapter that speaks to a particular technique or client population, these practical therapeutic strategies and clinical insights from EMDR practitioners who serve diverse clinical populations will be add crucial skills and knowledge to your EMDR toolbox.
The sequel, EMDR Solutions II, presents step-by-step instructions for implementing EMDR approaches to treat a range of issues, written by leading EMDR practitioners. Its how-to approach, mixed with ample clinical wisdom, will help clinicians excel when using EMDR to treat their clients. 
Together, these two books form a comprehensive guide to understanding and implementing EMDR solutions in clinical practice. 
About the Author
---
Robin Shapiro, LICSW, is known for her clear, accessible, and practical style in writing, teaching and clinical consultation. She edited and contributed to EMDR Solutions: Pathways to Healing (Norton, 2005) and EMDR Solutions II: Depression, Eating Disorders, Performance & More (2009) and wrote Trauma Treatments Handbook (2010), and Easy Ego State Interventions (2016). She loves her work: writing, presenting about ego states, EMDR topics, and suicide prevention, doing clinical consultation, and thirty-eight years of psychotherapy practice, especially around issues of trauma, anxiety, and attachment.
Praise For…
---
Robin Shapiro has assembled an impressive group of experienced EMDR practitioners who combine creative ideas with their solid understanding of EMDR to offer guidance to therapists working with diverse client populations. EMDR Solutions II provides EMDR therapists with a wealth of practical information and techniques. It is a welcome addition to the EMDR literature.

— Laurel Parnell, PhD, author of Transforming Trauma: EMDR

For those in pursuit of cutting-edge strategies using EMDR with complex and diverse populations creatively served up, I encourage you to embrace this treasure trove of gifts by some of our most well-respected EMDR clinicians/authors.
— Journal of EMDR Practice and Research