Detroit's Cass Corridor and Beyond: Adventures of an Art Collector (Hardcover)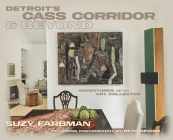 $68.75

Usually Ships in 1-4 Days
Description
---
Detroit's Cass Corridor & Beyond is part memoir and part art book by veteran journalist Suzy Farbman. For many years, she covered design for national and Detroit publications and ultimately created her own home as an homage to the best of familial antiques and contemporary art. In color photos and vivid anecdotes, Suzy tells the story of her support of Detroit's first avant-garde art movement, the first generation of Cass Corridor artists.
Starting in the late 1960s, a scrappy band of creatives began working in the Cass Corridor area of Wayne State University in Detroit, many using assemblages of whatever materials could be found or scrounged. Jackie Feigenson, a sculptor turned gallerist, considered their work exciting, original and worthy of serious representation. Jackie gave up her art practice to open the Feigenson Gallery in midtown Detroit's iconic Fisher Building, one of the landmarks designed by Suzy's great uncle Albert Kahn. Farbman visited the Feigenson Gallery, viewed its opening show of Michael Luchs' rabbits, and was hooked. She purchased a rabbit of wood, rags, wire, and paint as her first foray into collecting contemporary art. This was Jackie Feigenson's first sale in her new gallery.
The book includes photographs of Suzy's homes in Franklin, Michigan, and Sarasota, Florida, and informal snapshots of friends in and out of the art world. Featuring stylish images by renowned photographer Beth Singer, this book is written with wit, wisdom, and personal perspective.
In welcoming readers to her book, Suzy writes: "By opening our doors and telling our story in these pages through vivid images and anecdotes, I am sending a personal love letter to each reader. As you turn these pages, I invite you to celebrate with me the love of family, the joys of collecting, the resilience of one of the world's great cities, and the brilliant diversity of Detroit's artists."
She continues: "Over many years as a journalist covering design, I saw a wide range of living spaces. When I summoned all that I had learned from others, I was convinced that a beautiful home could be designed to include our shared family history, fond memories that continue to unfold in our lives, as well as bright artistic visions. If you agree that beloved objects make a place a home, you will enjoy the adventures that bring this books to life."